Your Trainer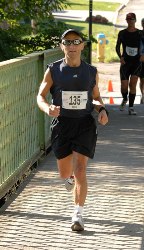 Bob Cater, is a Can-Fit-Pro Certified Personal Training Specialist, a N.E.S.T.A. Certified Advanced Personal Trainer, and an AAHF Certified SrFit Training Specialist.
Bob is a lifelong Cambridge resident dedicated to his own health and fitness. Often seen running the streets and trails in the area Bob is constantly challenging himself to improve through dedicated training, continued education and hard work.
A passionate distance runner and cyclist, Bob also holds Certification as an Endurance Sports Trainer and a Fitness Nutrition Coach. Utilizing his background in fitness & sport, and the experience of countless endurance events, Bob finds satisfaction in guiding his clients to their greatest personal and athletic achievements.
Start today on the path to better health and fitness - let's talk.
Certifications
| | |
| --- | --- |
| Personal Training Specialist | Mature Adult Training Specialist |
| Endurance Sports Trainer | Advanced Personal Trainer |
Continuing Education Certificates
Advanced Exercise Nutrition
Pre-Exercise Health Screening
Exercise Physiology
Cancer & the Older Adult
Certifications recognized by:

&nbsp &nbsp &nbsp &nbsp &nbsp &nbsp


Your #1 On-Site Trainer